Surrey's Light Rail Transit vision was given a poor rating in a new study that examines major public infrastructure projects in Canada's three largest cities. According to the study, the proposed LRT system is one of four transit projects in Canada's three largest cities where the project business case does not break even.
The study also emphasizes the need to have a well-developed business case before advancing on multi-billion dollar rapid transit projects, in order to deliver the best value to the end-user and prevent special interests from prevailing in project planning.
Business Cases for Major Public Infrastructure Projects in Canada
University of Calgary School of Public Policy / Mario Iacobacci – November 9, 2017
Download Publication
The study, released by the University of Calgary School of Public Policy, was authored by Mario Iacobacci, an Economics PhD graduate from the U.K.'s Cambridge University, and a presenter at the most recent Global Public Transport Summit held earlier this year in Montreal.
From what I've found, Iacobacci has served in various roles related to transit planning matters. He lead the team that crafted Greater Toronto's Metrolinx Investment Strategy, which has set the course for various transportation projects in Greater Toronto. He has also worked on a business case for a BRT proposal in London, and directed the research for a 2008 Transport-Canada commissioned study on road pricing.
I can imagine that with the backing of someone like this, this study's findings will have an incredible weight on decisions on transit projects across the country. However, my guess is that this will probably be most pronounced in Toronto and Montreal. Vancouver was found in the study to be the most encouraging of the three major metros, in terms of delivering projects (SkyTrain expansions) that are consistently backed by strong business cases. The only exception is the business case failure of the Surrey LRT vision. The study suggests that the high cost burden of this project does not justify the public investment.
Most of [Metro Vancouver's transit projects] have either delivered net positive value (e.g., the Canada Line) or are expected to do so. The one exception is the Surrey LRT, which may not deliver value in its current form, although Phase 2 could restore the overall project to net positive value creation if it is delivered as an extension of the existing SkyTrain service rather than as an LRT.
Finally, somebody is listening!
For probably the longest time now, I have been trying to draw attention to the dismal findings of the business case examination for the proposed Surrey LRT system. Indeed, the findings of TransLink's 2012 Surrey Rapid Transit study indicated on all counts that a street-level light rail system would pretty much be the worst option for building rapid transit in Surrey. Apart from design flaws such as causing removal of two traffic lanes on 104 Ave, transit riders would save little if any time on it. TransLink's latest estimate is that Surrey Central-bound riders will only save 1 minute compared to the existing 96 B-Line.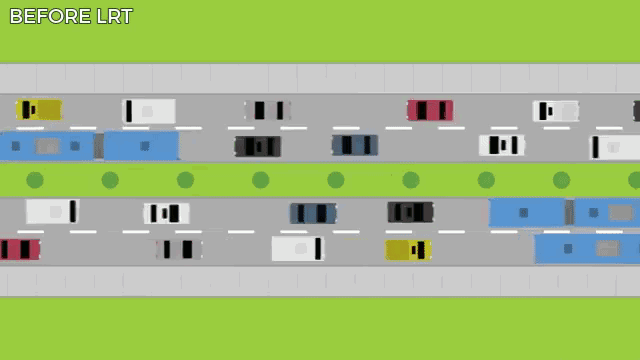 Despite these results, the City of Surrey has indicated that it is dead-set on proceeding with this Light Rail plan. City Council adopted Light Rail as its formal selection for rapid transit in Surrey. This Light Rail option was then endorsed by the Mayors' Council for their 10 years plan. Just recently, pre-construction work begun for the first phase line between Newton and Guildford. This is despite my own finding that this LRT line will be one of the slowest rapid transit systems in Canada when it is built.
How many more people will it take to stop an LRT that has been a horrible idea from the very beginning?
Already, the decision for LRT has drawn the ire of many others – not the least of which is from myself (I am, of course, leading the citizens' campaign trying to stop LRT). Recently, residents in the city have been fighting heated battles with City Council due to LRT-related roadway infrastructure that cuts through two major parks: Hawthorne Park, and Green Timbers Urban Forest.
The Surrey School Board has also drawn considerable public ire to the LRT project – LRT-related construction will cut through an existing local school's playing field and surround it on all 4 sides with roads. In retaliation, the School Board has demanded that the City provide funding for a relocated school, which will cost city taxpayers millions of dollars.
According to the latest project update, we have until early 2019 until TransLink starts construction on this LRT system and there is no turning back. Meanwhile, the Mayors' Council is expected to vote on Phase 2 of their 10 year plan – and the funding of the first phase Surrey-Newton-Guildford LRT project – next spring.
If this study isn't already enough, then I am hoping other scholars and think tanks will come forward in exposing the incredibly expensive mistake Surrey is about to make on rapid transit.
Yes, the study suggests that SkyTrain is the way to go!
Not only does this study bring to light to the poor business case of the Surrey LRT project, but it also notices that our previous SkyTrain projects had strong ones.
Recently we learned through Stats Canada that Vancouver lead the country in transit ridership growth, largely due to the significant expansion of our SkyTrain network. I have noted in the past that SkyTrain's ridership numbers have far outperformed other North American cities that chose to build Light Rail systems, including Calgary and Edmonton. Surrey's LRT project stands to make a dent in these leading numbers that have set Vancouver apart as an example in North America.
There is some evidence that the projects underway were not the highest-value alternatives available to decision-makers. This can probably be discounted in the case of the Canada Line, where the alternative referred to the same project delivered 10 years later, but it remains a concern for the Surrey LRT.
TransLink's Surrey Rapid Transit Study suggested that expanding SkyTrain from King George Station to Langley would offer a superior business case, delivering more value than an LRT system when combined with Bus Rapid Transit on 104 Ave and King George Blvd. This study comes to the same conclusion, suggesting that building the "phase 2" LRT line to Langley as a SkyTrain instead will significantly improve the business case and fix the overall business case problem.
However, it also finds that building the "phase 1" line on 104 Ave/King George Blvd as a bus rapid transit system would offer a better business case than LRT, inferring that the benefit-cost ratio of this option would be 1.15 – whereas LRT offers a ratio of 0.69. This is the option that is selected as the "better alternative" that could have been selected and thus offered greater value as a transit project.
In addition, with new developments in rapid bus technologies such as bi-articulated buses, battery-powered electric buses and trackless train technology, building a BRT system is looking like an even more attractive option for improving transit service in our city on 104 Ave and King George Blvd.
Add to Phrasebook

No wordlists for English -> English…
Create a new wordlist…

Copy
Add to Phrasebook

No wordlists for English -> English…
Create a new wordlist…

Copy
Study concludes City of Surrey's LRT vision has fatally flawed business case